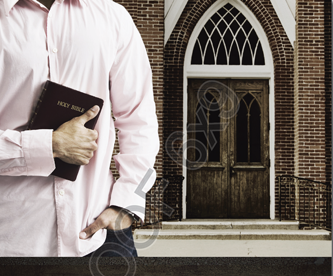 We have been talking about identity, more specifically, spiritual identity. How do you identify yourself, as a sinner or saint? Considering the popular phrase among Christians, "we are all sinners," some of you might respond, I am a sinner. The book I authored titled, "Am I a Sinner, Too?" challenges this response. Why? Firstly and far most, it lessens the price of Jesus' death and resurrection. Secondly, according to Proverbs 23:7 (KJV), we are as we think in our hearts; therefore, it is important that we have the correct concept of ourselves and redeemer.
Sinner or Saint?
My wife and I watch this TV show titled, Saint and Sinner.  Of course, the show is not what we expected; however, it does depict a realty that sometimes it is difficult to distinguish saints from sinners.
I heard a minister several years ago say, for sinners, sin is a way of life but for saints, sin is a choice. If we believe we are sinners, then sin becomes our way of life. That is not why Jesus sacrificed his life. Think of the price He paid to redeem us. Therefore, the book was intended to challenge believers to accept their new identity and live accordingly. In the book, however, I did not answer the question. I endeavored to provide sufficient information for each believer to answer it for themselves.
After watching a season of the show mentioned above and being aware of the discourse we have in our society and even in our churches, I have concluded that it is paramount to unequivocally answer the question.  I take to heart Proverbs 23:7 and believe believers would live differently if they had the correct concept of themselves.
You may Assist
Therefore, my goal is to revise the book mentioned above or write a second book to accomplish this purpose. I am hoping, however, you will assist me by expressing here your thoughts about that phrase. Request you add your comments here and I welcome your questions as well.