Value System
Our identity consists of with whom and what we associate, as well as what and in whom we believe. Our beliefs drive our value system, which determines our actions and responses to our circumstances. The book of James talks about the relationship between faith and works. We are saved by grace through our faith and not by works (Eph 2:8). However, James tells us that faith without works is dead. In other words, if you have faith, you will have works. Your works are an outward manifestation of your faith. Therefore, as Christians, or as Paul would say, Saints, we must walk daily by faith. Our value system must be based on the right beliefs.
Worldview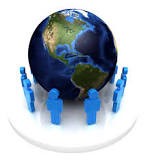 Our worldview is how we view the world, which is influenced greatly by our beliefs or value system. According to the American Scientific Affiliation:
"A worldview is a view of the world, used for living in the world. A world view is a mental model of reality — a comprehensive framework of ideas & attitudes about the world, ourselves, and life, a system of beliefs, a system of personally customized theories about the world and how it works."
Our value system and worldview are all intertwined. Together they influence our responses to circumstances and our interpretation of situations, scriptures and world events. Therefore, to be effective, Christians must have what is referred to as a Biblical Worldview.
Biblical Worldview
A Biblical Worldview refers to the interpretation of and interaction with the world based on the scriptures. Not too long ago, you could safely assume what individuals believed if they proclaimed to be a Christian. Jean, my wife, and I attended the AACC 2012 Convention where we heard George Barna, the author of Maximum Faith, speak. He shared some very intriguing information that inspired us to purchase a copy of his book. According to his research, only a very small percentage of American adults have a Biblical Worldview.
Now, imagine, and I admit you could call me into question on this particular analogous, but I will say at least in days gone past, it was true. An American ambassador, regardless of the foreign country in which he serves, would have an "American Worldview," meaning he would see and interact with the people of that country based on the view points and interest of America, which includes American's policies, beliefs, strategic objectives, etc., and most people in that country would have little difficulty, if any, identifying him as an American. The same should be true for Christians. With the help of the Holy Spirit, we should interact with the world based on what God has prescribed for us in the scriptures and most people, believers and non-believers, should have little difficulty, if any, identifying us as Christians.
Since our worldview influences our identity even greater than our name, Christians, to be effective, must have a Biblical Worldview. It is disheartening, however, to learn that Christians' view of the world is not much different than that of the world. According to Barna's 2018 research, the proportion of adults who have a Biblical worldview dropped from ten percent in 2016 to seven percent in 2018.
What is your worldview?