Living out your Allegiance to Jesus
Those of us whose identity is in Christ understand the vitality of being a living sacrifice for Jesus. The old fable of the pig and chicken conveys the essence of Matthew 16:24: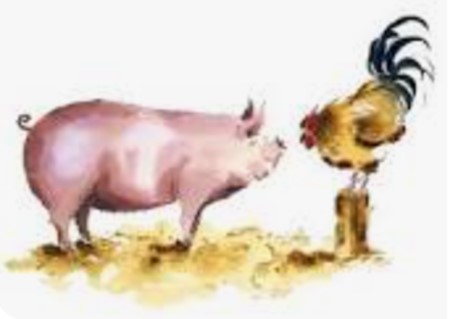 A pig and chicken were walking down the road.

The chicken says, hey pig why don't we open a restaurant?

The pig says um, what would we call it?

The chicken says, how about ham-n-eggs?

The pig says, no thanks. I would be committed but you would just be involved
(source)

A Disciple of Christ
Committed Christians to Jesus are the true disciples. The witness of only involved Christians is usually ineffective. Yes, we attend church and some of us are even active in the church. We may even attend Sunday School and Bible Study, assist with food drives or other efforts to feed the hunger. However, when it comes to interacting with others in everyday life, we forget who we represent. We allow our emotions to dictate our actions. As a result, we fail to adhere to the scriptures that talk about self-control (1 Corinthians 13:4-7) or how the strong should bear the infirmities of the weak (Romans 15:1). Non-committed Christians do not represent scriptures such as Romans 12:1-2. Matter of fact, verse 2 tells us what is our reasonable service or worship.
Involved vs Committed
Involved Christians have time for other affairs. These Christians involve themselves in church but also in matters contrary to church teachings. When husband and wives lack commitment to the marriage, they may be also involved in affairs. Spouses committed to their marriage only have time for each other. They do not have the time to do all the things they want to do with each other and do not give thought to going outside of the marriage.
Devoted Christians
God requires total commitment. That does not mean spending all of your time in church and doing what we frame as church activities. The truth is a committed Christian may spend less time in church activities. God wants us out among other people so they can see our lives and know we are different and ask why. On our jobs, we should not be among those complaining and berating the leadership or other co-workers. Getting a promotion should not be our highest priority but rather giving 100 percent, an honest day's work, to the company. In sports, we do not have to be preaching to all the athletes, but we should not be guilty of unsportsmanlike conduct or cursing out the officials.
Committed Christians set an example for others and are able to say like Paul said, "Be ye followers of me, even as I also am of Christ."(1 Corinthians 11:1). They understand the vitality in surrendering their bodies as a living sacrifice.